Now that it's December, it's time for those who celebrate Christmas to install the updated version of the Google Santa Tracker app for 2017. Be careful when installing the app because many "Santa Trackers" are listed on Google. Play Store, and some are paid apps. look for it google Santa Tracker, which happens to be a free app. When the Google Santa Tracker opens, the first thing you'll see is a countdown to Christmas Eve, when Santa begins his annual trip around the globe. Among this year's additions is a game called Santa Snap. Working with Google Maps, you play as an elf, flying above certain cities posing with a landmark for a selfie. The handset's accelerometer is used to position the camera, and you can start Sydney. Once you complete your task in that city, it unlocks the next one on the list, Barcelona. There are 12 cities in total, with New York as the final location. One game, Penguin Swim, lets you control a penguin swimming through water. By gently moving your phone, you try to get the penguin to avoid obstacles like icebergs and rude human swimmers. Other games include North Pole Airport, Gumball, Memory, Rocket Sleigh, Dasher Dancer, Snowball Run, Present Quest, and City Quiz. More games are unlocked daily, and one of them will feature a virtual snowball fight.
In other words, there's plenty to do with this free app, and the kids will love it (and maybe you will too!). There are also some nice animated videos, some of which are locked at the moment. But as we get closer to Christmas Eve, these will be available for view. And speaking of December 24, on that date the Santa Tracker is unlocked, and everyone will have the ability to track Santa's travels around the world.
Download Google Santa Tracker for your Android phone by clicking the source link.
Google Santa Tracker is updated for 2017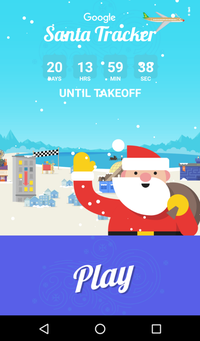 The source: GoogleSantaTracker