The way we enjoy the game has changed dramatically in recent years, with the introduction of smartphones and smartwatches providing us with more information than ever about the sport we love. Many of them can be used to provide live data on the course, such as distances to flags or hazards, while others specialize in analyzing your game after the round. Whatever you are looking for, there is a golf app that will meet your needs. We've rounded up some of our favorites below, but why not let us know which apps are now part of your golf routine?
One of the most widely used golf apps in the UK, Hole19 offers a long list of features, designed for use on and off the course. Although there is a Premium version which adds additional statistical analysis, club recommendations, more detailed maps and removes ads, the free version of Hole19 is more than sufficient for the majority of golfers.
On the course there's GPS mapping for over 40,000 golf courses, with the app able to keep track of your scores, and even race against your friends in multiplayer mode. On-course features can be accessed through the app for phone and wearable technology (watches), and one of our favorite features is 'offline mode' which means you can save on some of your data (and battery) during the tour. Once back home, you can review your performance stats, showing you exactly where you're losing (or gaining) shots – providing a detailed assessment of areas that need further work!
Overall, Hole19 is a solid product offering and definitely worth checking out if you're looking for a golf app that does it all.
In truth, there are many similarities in functionality between 18Birdies and the aforementioned 19hole. Both offer GPS, stat tracking, and multiplayer options. However, there are a few additional features in 18Birdies that may be of real interest to some. First, the app has a built-in AI coach, allowing you to upload your own swing and instantly get recommendations and advice. The 18Birdies app also helps you create a handicap based on your scores in the free version (this can be found in the "Premium" section of Hole19).
As for 18Birdies paid offering, there are some unique features including Caddy+… a Tour-like digital caddy to help recommend clubs and on-course strategy. There's also a live weather map, which is useful – although we're sure you'll already have an app (or two!) to help you with this on your phone. One last feature (which is awesome) is the Blind Shot Compass. Sounds simple, right? But the ability to know exactly where you're hitting when you can't see the flagstick is extremely useful, and much more worthy than going back and forth between your ball and where your ball should probably be!
Tag Heuer has launched its golf app in partnership with its Connected Golf Watch, although it's also available for Apple and Android products. While there are post-round stats to peruse, these are relatively simplistic compared to some of the other apps on the market. However, don't let that put you off, as the simplistic nature of the app is actually one of its main advantages. If you're primarily looking for a handheld GPS, the Tag Heuer Golf app is great, and unlike others, you scroll up and down the hole you're playing to get more accurate distances – rather than just a "forward , middle back". ' option in the green.
As you'd expect from Tag Heuer, the app as a whole is relatively premium, with bright graphics that show off every hole well. It looks especially good on mobile and can be a lifesaver when playing an unfamiliar course. That said, if you're going to pair it with the latest Tag Heuer smartwatch, you'll also benefit from the app's ability to automatically track your shots, as well as a magnetic ball marker built into the watch strap.
Many will be familiar with the Arccos shot tracking system from their partnerships with leading manufacturers such as PING and Cobra. The small sensors are installed in the handles, paired with the app on a mobile phone or wearable device. Arccos differs from most of the other apps mentioned because it was primarily designed to pair with their hardware, although golfers can download the app and access certain GPS features without having the sensors. However, we recommend going all-in with Arcoss or not at all, as the whole ecosystem works much better when used in this way.
We like the shots gained analysis that comes from the app, as well as the club recommender (based on your exact distances, collected by the system, straight from your clubs!). Also in your profile, you can look for "what to work on" recommendations, with Arcoss claiming that their active users typically reduce their handicaps by up to 5 strokes. A serious consideration then for those looking to improve their score.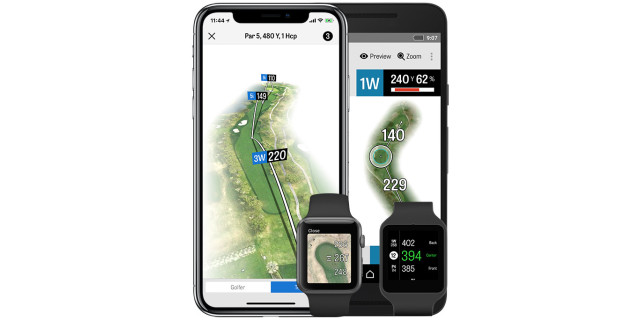 Golfshot is perhaps a little more US-centric than some of the other apps mentioned so far, though it's still suitable for worldwide use. Americans can directly link their GHIN (handicap) and download scores from the app, eliminating the need for multiple logins on different apps before the round. Another great feature of Golfshot is its voice assistant, which allows you to leave your phone in the bag and simply call a number on the green. Be careful not to use while you are playing, the partners are above the ball!
One last great thing about Golfshot is its partnership with GolfNow, allowing users to book their tee times directly through the app, again reducing the total number of different golf apps you might need in your life.
Last but not least is SwingU. Like others, the app offers real-time GPS data, as well as scoring functionality and post-ride statistical analysis. This is done using hits gained, making it one of the most accurate and easily understood enhancement systems. The paid version of SwingU also has great add-ons such as the "play as" number for your distances, as well as wind and elevation data, and even green play maps!
Be careful though, because not everyone will be eligible for competition. Although there's nothing wrong with using them on a practice round to familiarize yourself with your own course or a new venue before an important tournament.
---
Related content
What should be in your golf bag this season
How many wedges do you need in your golf bag
How to fill the top end of your golf bag