In 2014, when Sanskriti Dawle, Aman Srivastava, Dilip Ramesh and Saif Shaikh were in their second year of college at BITS Pilani (Goa), they discovered a computer called Raspberry Pi.
As part of an independent research project at the university, they developed a Braille alphabet song box on the credit card-sized computer.
"At the time, the Raspberry Pi only cost $35 and was used to build cheap computers. We were playing with the device to learn, how to make lights appear, etc. This was back when we were also talking about education and wondering if we could create a haptic display, that someone could touch. This is how we built our first prototype, which played the alphabet song, and the letters could be felt on the board," says Aman.
They got a grant for this project from their college, through which they visited a school and a hospital for the blind in Hyderabad. The response from students of all ages as well as teachers surprised them. They were smitten with the product and couldn't put it down.
"We visited the LV Prasad Eye Institute in Hyderabad where we were blindfolded and shown things. We spoke to several speakers and we realized that the problem was that there was a lack of educators and modern methods. Teaching Braille is also very human, as it requires a teacher's full attention and time. We then researched braille literacy and read a lot about it," adds Aman.
For the four friends, who are all in their mid-20s today, this was their first introduction to a braille literacy gap in India.
"When we went to school for the blind, our whole perspective changed. We couldn't believe teenagers were playing with such a simple device. They were interested and engaged in the product," Sanskriti recalls.
The team then spoke to students and teachers about the issues they face.
She says the visit to this school also brought to light how difficult braille is and how time-consuming it is for teachers and students. "We have learned that if there are six students in a class with a teacher for an hour, each student is idle for about 50 minutes, because they only learn when the teacher is personally involved with them. As Braille is a tactile language, a child only learns when the teacher holds their hand," she explains.
Making braille easy like never before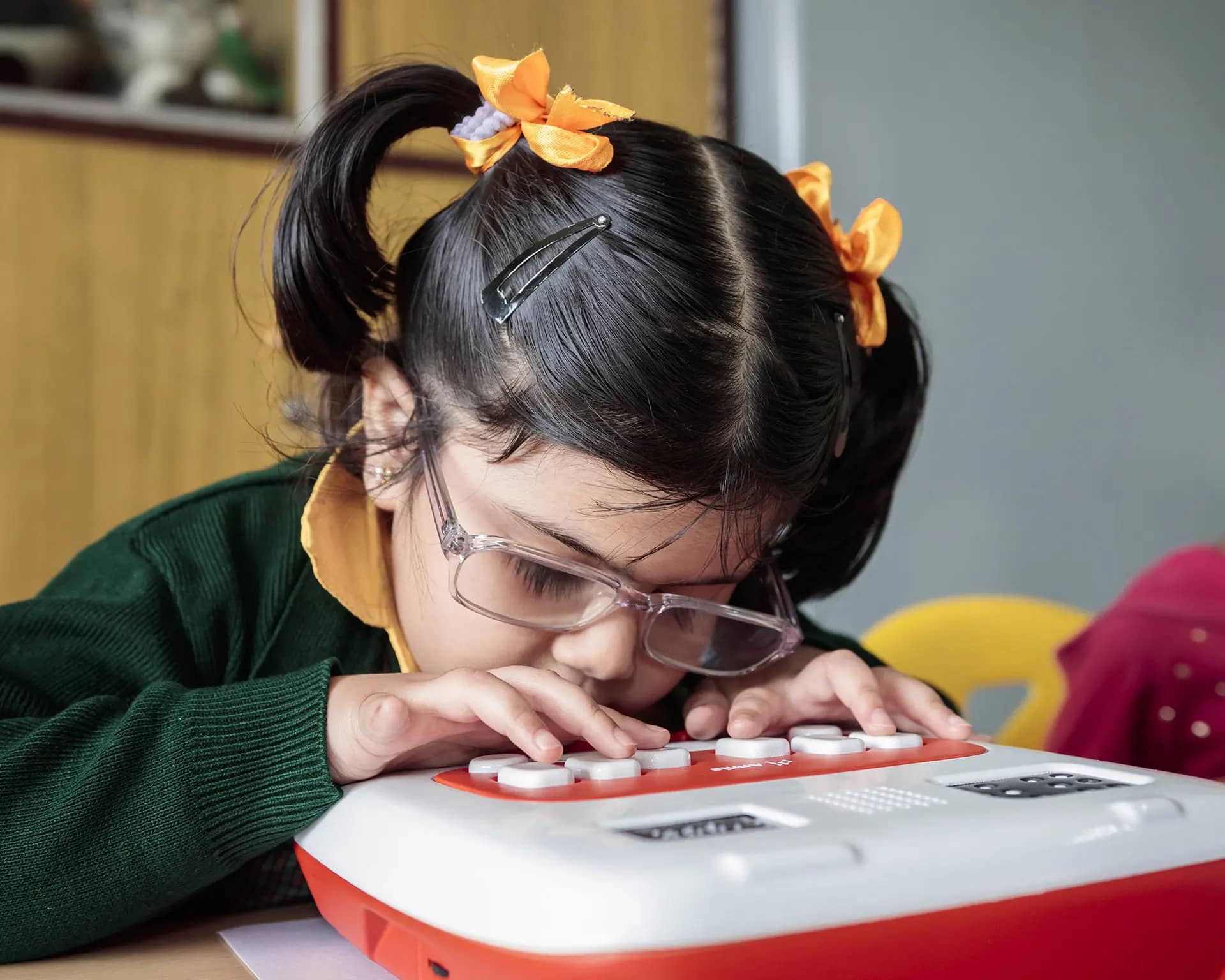 This realization made students realize that there was an urgent need to find a way to facilitate this learning process.
"As engineers, all we wanted to do was create technology that really mattered to someone. We all had that same passion. We started learning braille ourselves, and that was really difficult. We found it difficult as literate adults and wondered how hard children must find it," says Sanskriti.
According to a 2019 report, India is home to 20% – 40 million – of the world's visually impaired population, including 1.6 million children.
Even though countries like the United States and the United Kingdom have low Braille literacy rates (at 10% and 4% respectively), India's number is abysmal, at less than 1%.
Sanskriti notes that it takes a full year for a student to learn the basics of braille under constant supervision.
"While we learned to use games and blocks in our childhood, blind students had no such options. The method of teaching braille remains the same as it was 100 years ago. It's boring for a young child. And if a teacher is good, the child learns well. If not, it's difficult," says Aman.
Armed with this information, the four friends focused the next two years on finding a viable solution to increase this rate. The result was Thinkerbell Labs, an ed-tech platform launched in 2016, and their flagship device Annie.
Annie is a 'self-taught' braille literacy device and functions as a personal tutor. It has a braille display, keyboard and digital braille slate that includes audio-guided lessons in regional languages ​​as well as English. It is also accompanied by games to familiarize children with Braille.
The founders named the device after Anne Sullivan, who was Hellen Keller's teacher.
The device comes with an ecosystem called Helios, which allows teachers to track student progress and recommend lessons. They can also schedule tests and customize their content.
"Annie teaches children the concept of alphabets and how they form words. It teaches them from scratch and does not assume prior knowledge. It's self-paced, and once you've completed a level, you can unlock the next one. Braille itself is very fascinating and requires immense practice to get that tactile sensitivity at your fingertips," says Sanskriti.
Sanskriti says the founders all pooled Rs 35 lakh to launch Thinkerbell Labs. "We borrowed money from our families to start the business," she says. "The four of us, with 13 interns, worked in an apartment. We didn't even have a lot of money to pay them. But we've come a long way from there.
In 2017, Thinkerbells received the first round of investment from Anand Mahindra, Lets Venture and Indian Angel Network. They also raised Rs 1.05 crore on Shark Tank India, bringing their total to Rs 7.7 crore.
Towards inclusive education
The major challenge, Sanskriti says, was the technology itself, as they wanted the product to be a complete one-stop-shop literacy solution.
"Braille writing was a big challenge for us when developing the technology. It took us a long time to master the technology. Based on the feedback, we created a completely new design, which went through many changes before we focus on Annie," she explains.
This year they received a patent for their technology in India.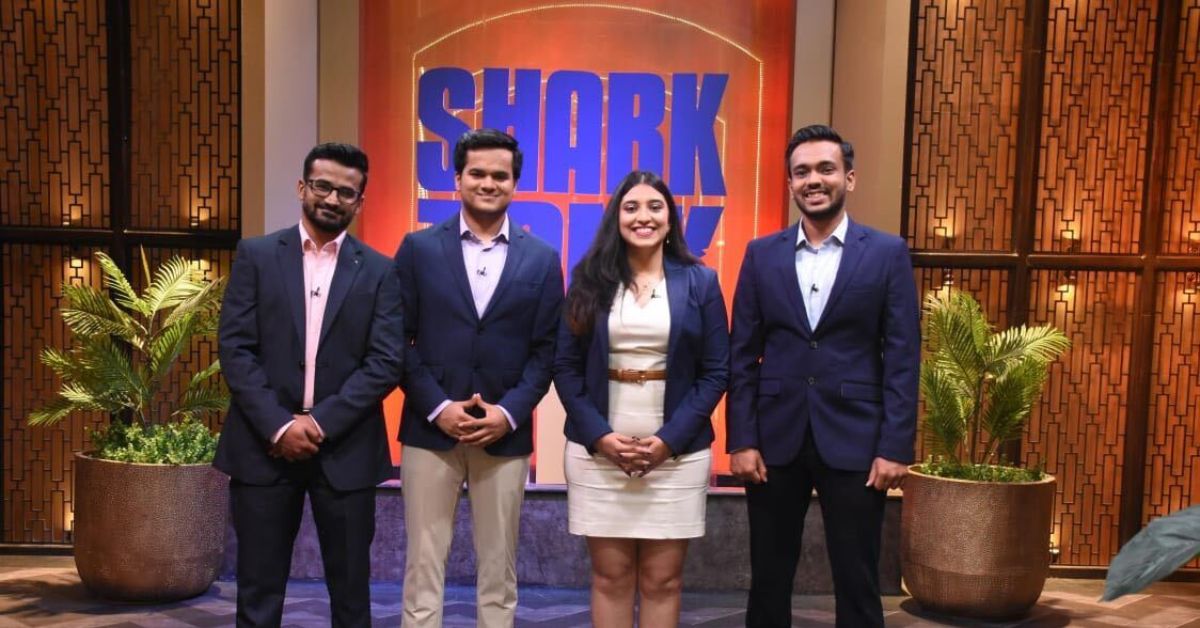 Meanwhile, teachers also say the device has made learning easier for children.
"Annie is a marvel for the visually impaired. Learning braille can be a daunting task – manual braille comes with a slate and stylus, and it's tedious. Thinkerbell made it quite interesting. My students, especially the younger ones, enjoy using this device," says Sakina Bedi, a teacher at NFBM Jagriti School for Blind Girls in Pune, adding that this way Annie helps a teacher to teach more one child at a time. It also provides real-time feedback to children.
"I'm from Pune and I'm happy to see that it's the first city where every school for the blind has an Annie smart class," says Sanskriti.
"The device is suitable for children aged 6 to 14 and remains completely free for the end user. We partner with district governments and offer Annie Smart courses. We are present in 16 states and have so far distributed 850 Annies to approximately 1,500 students. We are keen to work with state governments at the political level," adds Sanskriti
They also recently launched in the United States in all 50 states, and 150 schools will receive their product, called Polly in the United States, starting this school year.
Thinkerbell won the National Start-up Award 2021 and was recommended by NITI Aayog. They were also invited to the Raisina Dialogue, organized by the Observer Research Foundation (ORF), in partnership with the Ministry of Foreign Affairs. The Founders also met with Prime Minister Narendra Modi during Digital India Week.
In India, one of the principles of the National Education Policy (NEP) 2020 is inclusive education, which includes students with disabilities, such as blindness. The policy also aims to recruit specialist educators in all school complexes to ensure that teaching is more inclusive and aware of the needs of children, in accordance with the ORF.
Thinkerbell aims to align with this vision through its smart Annie classes.
"A big problem in India is the lack of teachers. Our vision is centered on inclusive education. Our smart classrooms help children learn easily. We need an improved education system to serve children with special needs. Braille literacy is just the beginning for us. We want to be the leader in inclusive education," says Sanskriti.
| | |
| --- | --- |
| Sector | Education Technology (EdTech) |
| What theyre doing | Thinkerbell Labs aims to achieve 100% braille literacy rates. Their mission is to ensure that Annie reaches all visually impaired children who need help learning to read, write and type Braille. |
| Year of foundation | 2016 |
| Headquarter | bangalore |
| Funding raised | Rs 7.7 million |
| Founders | Sanskriti Dawle, Aman Srivastava, Dilip Ramesh, Saif Shaikh |
IN A WORD
Edited by Divya Sethu
Sources
'An Equitable and Inclusive Vision in National Education Policy 2020: A Critique' by Jibran Khan, Niranjan Sahoo for ORF, Published 24 August 2020
"India is home to 20% of the world's visually impaired" by Naveen S Garewal for The Tribune, published March 04, 2019. All images courtesy of Thinkerbell Labs.